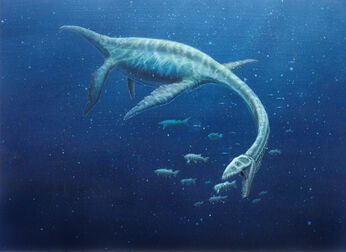 Woolungasaurus was a genus of long-necked pleisiosaur from the Albian stage of the Creatceous. Fossils of this pleisiosaur are known from the Wallumbia Formation of Queensland, Australlia.
Description
[
]
At 9.5 meters (29 ft) in legth, the type species, W. glendowerensis, is known from a partial skeleton, consisting of 46 vertebrae, shoulder girdles, ribs, foreamrms, and a partial rear limb.
Classification
[
]
Woolungasurus was a member of the family Elasmosauridae, with a rather stereotypical appearance for the family, having a long neck, a small head, and jaws lined with 40 sharp teeth, evolved for catching fish.