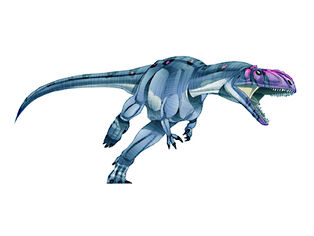 Proceratosauridae

Kingdom:

Animalia

Phylum:

Chordata

Class:

Reptilia

Superorder:

Dinosauria

Order:

Saurischia

Suborder:

Theropoda

Superfamily:

†Tyrannosauriodae

Family:

†Proceratosauridae
Proceratosaurids were a family of basal tyrannosaurs that evolved some time in the Middle Jurassic. They ranged in size from Proceratosaurus at 2 meters (6 feet) to Sinotyrannus at 10 meters (33 feet) long. Proceratosaurus, the type genus, was originally believed to be similar to Ceratosaurus . In the holotype specimen, the top of Proceratosaurus' skull was missing so it appeared to have a nasal horn, like Ceratosaurus. In a re-evaluation of taxonomical relationships, Proceratosaurus was grouped along with three other similar dinosaurs in a family called Proceratosauridae.
Members of this family include:
Proceratosaurus (type)
Community content is available under
CC-BY-SA
unless otherwise noted.