We're Getting Mutants in the MCU - The Loop
Play Sound
Microraptor



Kingdom:

Animalia

Phylum:

Chordata

Class:

Reptilia

Superorder:

Dinosauria

Order:

Saurischia

Suborder:

Theropoda

Family:

†Dromaeosauridae

Subfamily:

†Microraptorinae

Genus:

†Microrator

Species:

†M. Zhaoianus (type)

†M. gui
Description
[
]
Microraptor was a small genus of Dromaeosauridae (raptors) from the Aptian Stage of the Early Cretaceous 120 million years ago. Fossils of Micoraptor have been found in the Jiufotang formation of China. Microraptor is notable for its "four wings". A full grown Microraptor measured about 77-90 cm (2.53-3.0 ft) long from nose to tail and likely weighed 1 Kg (2.2 lb.). This would make Microraptor about the size of a crow.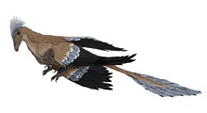 Possibility of Flight
[
]
What really makes Microraptor extraordinary is that it had feathers on both its fore and back legs. These feathers were arranged in a wing with both primary and secondary flight feathers with asymmetrical vanes. This raised the idea that Microraptor could possibly glide, if not fly. Studies show that Microraptor would not have had the muscle capability for powered flight but, may have been able to glide from tree to tree. Scientist determined that, for it to glide, Microraptor would have had to hold its wings at different levels like a biplane. It is believed that Microraptor would have launched itself from a tree and then glided in a phugoid style in a parabola curve to another tree, perhaps being able to steer with its tail.
Ground Movement
[
]
Ground movement has been deemed unlikely due to the fact that Microraptor's feathers would be damaged from being dragged along the ground. Even with the feathers completely folded back, they would still have dragged along the ground. This rules out the possibility of a ground take-off. Microraptor likely lived in the trees and therefore, hunted in the trees.
Fossils of small mammals, fish, immature dinosaurs, and even birds[1] have been uncovered in Microrator's gut, giving light to what it may have eaten. A large sclera ring suggest Microraptor was a nocturnal hunter.
References
[
]